PM offers more assurances to EU citizens
Theresa May has vowed to make it as easy as possible for EU citizens to remain in the UK after Brexit ahead of a key summit of European leaders.
In a Facebook post, the prime minister insisted the application process for settled status would be "streamlined" and the cost "as low as possible".
Campaigners welcomed her message but said it seemed more aimed at persuading the EU to progress Brexit talks.
The PM will address EU leaders at a summit in Brussels later.
The leaders of the other 27 member states will then consider the overall progress in the talks so far.
At a meeting on Friday, at which the UK will not be present, they are expected to conclude officially that "insufficient progress" has been made on the first topics for discussion to move onto the second phase of trade discussions.
A group of pro-Brexit politicians is urging her to make clear she will walk away from talks unless the EU changes its stance.
European Council President Donald Tusk said there would be no "breakthrough" at the two-day summit, but progress could be achieved by the next scheduled meeting of EU leaders in December.
As well as citizens' rights, agreement has yet to be reached on the UK's financial obligations to the EU and the border in Northern Ireland.
Before leaving for Brussels, Mrs May used her Facebook post to offer further assurances to the three million or so nationals of other EU countries living in the UK and uncertain about their future after Brexit.
In her message, she said those who already had permanent residence would be able to "swap this" for settled status in as hassle-free a way as possible.
---
Some encouragement for UK
Analysis by Europe correspondent Kevin Connolly
The October summit was always the first date in the EU calendar on which a gathering of the 27 heads of government could declare themselves satisfied with the Brexit divorce negotiations and agree to start talking about trade.
It's been clear for weeks that they won't do that – but they will offer the UK some encouragement by starting internal discussions about future trade with the UK – ready for any breakthrough at the next summit in December.
Theresa May isn't expected to make any big new proposal in her after-dinner remarks but to underline the quality of the financial offer made in her speech in Florence – worth around £20bn.
The EU side wants more though – more money as well as further movement on citizens rights and the Irish border.
There are almost as many predictions about what happens next as there are diplomats in Brussels; one has suggested that the prospects of a December breakthrough are no better than fifty-fifty but an official close to the talks said the signal on Brexit from this summit would be fundamentally positive.
---
"I know there is real anxiety about how the agreement will be implemented," she wrote.
"People are concerned that the process will be complicated and bureaucratic, and will put up hurdles that are difficult to overcome. I want to provide reassurance here too.
"We are developing a streamlined digital process for those applying for settled status in the UK in the future. This process will be designed with users in mind, and we will engage with them every step of the way."
The process of applying for permanent residency, for which EU nationals are eligible after five years, has long been criticised as cumbersome and overly bureaucratic. At one point, it involved filling out an 85-page form.
'People first'
In simplifying it, Mrs May said she was committed to putting "people first" in the negotiations and expected British nationals living on the continent to be treated in the same way.
"I know both sides will consider each other's proposals with an open mind and with flexibility and creativity on both sides, I am confident we can conclude discussions on citizens' rights in the coming weeks."
Nicolas Hatton, of the 3million pressure group formed to fight for the rights of EU nationals in the UK, described the PM's statement as "very positive", but said its timing was "a bit more dubious".
"We should have received that letter maybe 12 months ago so we would not have felt so anxious about our future" he said, adding: "I think the letter was actually addressed to EU leaders."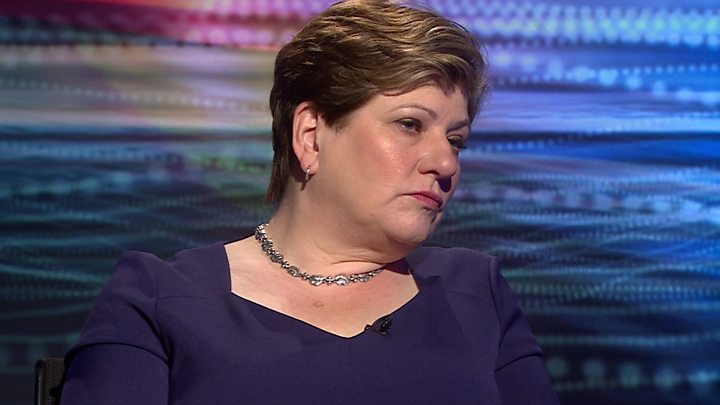 Mrs May, who will address other leaders at a working dinner on Thursday, wants mutual dialogue on the UK's future relationship with the EU, including trade and defence, to begin as soon as possible.
But Mr Tusk is expected to propose to the other 27 EU leaders that they begin talks amongst themselves about Britain's future relationship with the EU, when it leaves the bloc in March 2019.
A group of pro-Brexit Tory and Labour politicians – including former Chancellor Lord Lawson, former Conservative minister Owen Paterson and Labour MP Kate Hoey – is urging Mrs May to walk away from negotiations this week if the EU does not accommodate the UK's wishes.
A letter to the PM, organised by the Leave Means Leave campaign and also signed by pro-Brexit business figures, says the government "has been more than patient" and "decisive action" is now needed to end the "highly damaging" levels of uncertainty facing businesses.
In the event of no progress at Thursday's meeting, the letter says, Mrs May should formally declare the UK is working on the assumption it will be reverting to World Trade Organisation (WTO) rules on 30 March 2019.
Early notification of such a move would allow the UK to "concentrate our resources on resolving administrative issues" and prepare to "crystallise the economic opportunities" of Brexit, it adds.
Mr Paterson told the Today programme the UK should not be "terrified" of leaving the EU without a deal in place, saying this appeared "inevitable at the moment" due to the EU's "complete obsession with money" – the so-called Brexit divorce bill.
But Labour's Brexit spokesman, Sir Keir Starmer, said it would be "irresponsible" to threaten to walk away with the talks only at "phase one".
He added that Labour was not "duty bound" to support any deal the PM secures with Brussels.
Sir Keir and Labour leader Jeremy Corbyn are also in Brussels for their own talks.
Meanwhile, a trade body for the UK's creative sector has warned that money generated by it could be hit by a post-Brexit restriction on immigration.
The Creative Industries Federation (CIF) said the £87bn a year that UK-made films, music, adverts and video games generated for the UK economy was at risk if immigration was restricted.
The sector relies heavily on freelance staff, many of whom are from the EU, and the CIF wants the government to negotiate free movement of UK and EU workers for short-term projects.